The Spring season brings freshness and renewed energy. It is the ideal time for you to shed the winter stagnation and embrace a more vibrant you.
Boost Your Wellbeing With These Simple Steps:
1. Eat Seasonal Green Foods – Spring is associated with the color green. Green foods are rich with vitamins, minerals, and fiber. They are low in calories and full chlorophyll which rejuvenates the body, especially the liver and gallbladder that have been handling poor quality fats, processed foods, chemicals, medications, and intoxicants all winter.
Examples of foods to add are parsley, coriander, kale, Swiss chard, and collard greens. If you have access to wheatgrass and algae like Chlorella and Spirulina, add them to your smoothies or take them in pill form.
2. Get Rid of Plastic Containers – conduct a quick 'spring cleaning' in your kitchen by getting rid of all your plastic containers and replacing them with glass or ceramic containers.
Bisphenol-A BPA and phthalates are added to make plastic and are believed to leach into foods when scratched or heated. They are "endocrine disrupters." which means they are substances that mimic human hormones, and not for the good. Research suggests these chemicals may cause cancer.
Example:
For kids, use tempered glass containers and/or metal ones.

Plastic water bottles – replace with a metal bottle like this one.
For coffee cups – replace with a reusable metal or ceramic cup.
You'll be doing your body, your wallet, and the environment a big favor!
 3. Go Outside and Move! – working your muscles while you reconnect with nature clears your mind, reduces stress, depression and negative emotions as well as boosts energy.
Aim for 30 minutes a day while listening to your favorite music, podcast or bonding with a friend or parent.
Sources:
https://www.health.harvard.edu/staying-healthy/microwaving-food-in-plastic-dangerous-or-not
CHICKPEAS WITH MINT, SCALLIONS, AND CILANTRO
Yield: 6 cups cooked chickpeas
1 lb/ 1/2 kg chickpeas, soaked overnight in cold water
1 onion, halved
2 bay leaves
1 2-inch piece cinnamon stick
Salt
2 tbsp. olive oil
½ tsp. turmeric
2 tbsp. chopped mint
¼ cup chopped scallions
¼ cup chopped fresh cilantro
DIRECTIONS: 
Time: About 1 hour plus overnight soaking
Chickpeas (garbanzos) always taste better cooked from scratch, but unlike other beans, you do have to soak them overnight (or use canned ones). Then it's a simple matter of simmering for about 45 minutes. Cooked chickpeas will keep up to 5 days stored in their cooking liquid in the refrigerator. The combination of warm beans and cool herbs makes a great side dish.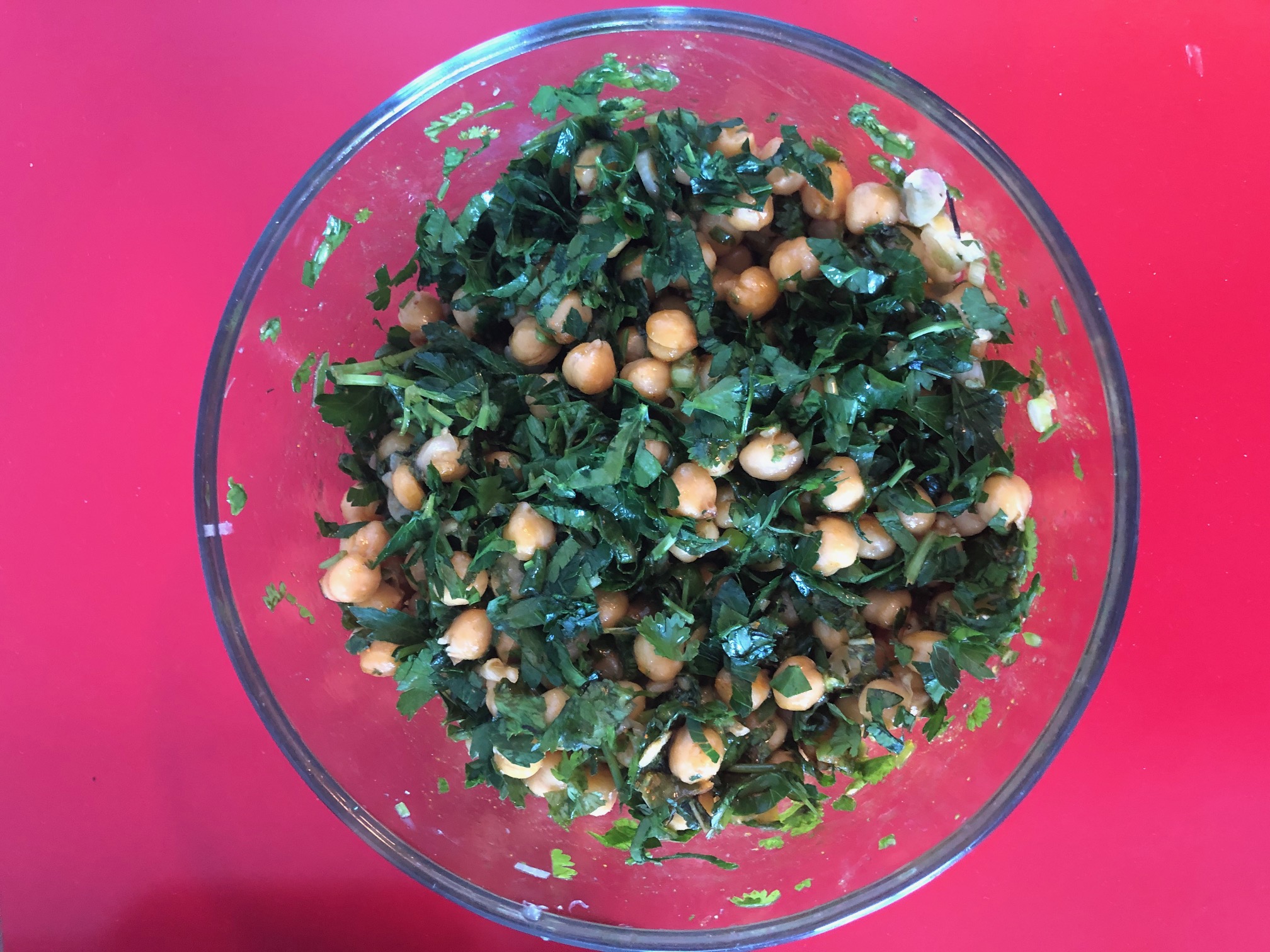 To Your Health, 
Yasmine